Leading the Charge Ahead of Elon Musk Neuralink
BIOHOLOGRAPHY is the official distributor of WAVE GENOME LLC's advanced products and services.
WAVE GENOME was founded in 2010 in Stamford, Connecticut and leads the global QUANTUM LEAP in:
Laser Bioholography
Holonet Holographic Drugs
Remote Bioengineering
Bioelectronics
WAVE GENOME has earned a reputation as the leader in bioelectronics. It is the pioneer behind the transfer of bioholograms of drugs on electret-based chips via laser; and works with some of the most knowledgeable scientists around the world to develop products and implement clinical trials. Some of its partners include experts from the Moscow Bauman Russian State Technical University, who verify its technological models; and the Scientific Research Institute for National Security in Moscow, through which its clinic operates.
The company is not only leading the charge ahead of companies like Neuralink and Elon Musk but is nearly 10 years ahead of Google in sales and decades ahead of them in research and development.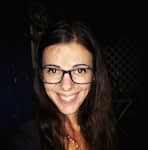 Lydia Evangelinos, LL.M
Director & Quantum Intelligence Advisor, BIOHOLOGRAPHY
Lydia directs BIOLOGRAPHY and its mission to provide life-changing consciousness and health services and products. She has broad experience in Quantum Mechanics and Life Physics and teaches the principles of the holographic universe through the DNActivation Program she created. Her business expertise spans communications, law, marketing and education and she holds her Master degrees in International Intellectual Property Law and Film & Communications.
Irene Caesar, Ph.D.
President & Founder, WAVE GENOME LLC
Dr. Caesar has been an early adopter and leader in the wave genome arena since the early 2000s, and is an originator of the structuralist theory of wave genome. She co-founded the Consortium, Matrix City, alongside the Institute for National Security in Moscow focused on building unique human settlements via application of the information-wave technologies of the Quantum Leap.
Dr. Caesar is credited with formulating the principles of the Quantum Internet, based on her principle of the uniqueness of the non-local wave matrices and instantaneous transmission between all tokens of the same unique non-local wave matrix. She was invited to head the Neural Engineering Section at BIT's 1st World Congress of Biomedical Engineering which focused on creating the new future of biomedicine. She holds her Doctorate in philosophy of science, and is an author of three books. She is regularly called upon to present her research at major science conferences worldwide.
Universe is 93% energy, and 7% particles, as concentrated energy, including cells and molecules. In living organisms, this energy exists as the crystal wave media (Wave Crystal), as the basis for regeneration in the liquid crystal media. The Holographic Principle states that Universe is entirely in its every Matrix Point. Implication of the Holographic Principle states that if the Universe is entirely in its every Matrix Point, then, every Matrix Point is not simply different from any other Matrix Point, but is unique. Thus, every Wave Matrix is both nonlocal and unique. If we have two copies of the same Wave Matrix, we can transmit information remotely and instantaneously between these two copies […] 
Irene Caesar, Ph.D. President Wave Genome LLC